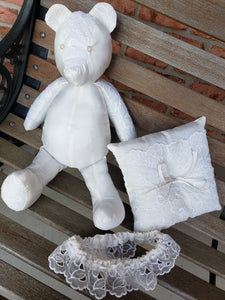 Wedding Memory Bear Made from Grandmother's Wedding Dress
A wedding is one of the most popular times to give gifts that become treasured keepsakes.  We were asked to transform a grandmother's wedding dress into a wedding bear, ring bearer pillow and garter for the bride.
This is the grandmother's wedding dress that had been hiding away in storage.  So we had to give it a good soaking and air drying to brighten it up before we started cutting into it.
Each garment that comes to us to become a bear takes a great deal of prep time to decide which parts will get transformed into each part of the bear.  It takes examining the garment to find all the best bits and picture where they would best be highlighted.  With this dress, I really wanted to utilize the lace from the bodice and the train.
On the base bear you can see that we didn't cover the bear with the lace as we were constructing a "wedding dress" for the bear as well and wanted that to have most of the lace adorning the dress.  So we accented the bear's arms face, and feet with the lace.
I used the bottom of the full dress to actually create the base skirt of the bear's dress so it would flow like the original.
I kept the front bodice of the bear's dress the satin and adorned the back with the lace again and creating a satin layer under the lace skirt.  It was just beautiful and using the natural flow of the original dress made this truly custom made keepsake a one-of-a-kind wedding bear that mimicked the many parts of the original dress.
I was also able to create a simple ring bearers' pillow from the lace and attached a satin ribbon to hold the rings.  We also created a simple but elegant garter for the bride to wear as is tradition. But all three pieces were created from one very special dress and all contributed to three very treasured keepsakes.
---